that children learn best through play and hands-on experiences that involve them in an active and meaningful way. Each classroom provides a variety of learning centers, activities and group experiences that strive to meet children's individual interests and needs. Partnering with parents, we create a warm and caring learning environment where children feel encouraged, valued which enables them to discover, experiment and grow.

In the spirit of developing all children to their greatest potential, Northminster Preschool provides a high quality early childhood program to meet the early learning, development and spiritual needs of preschool children. In meeting the needs of children it is also important to be encouraging and supportive of their families. As early childhood educators we are here to offer our expertise in child development and help with family and educational resources.


Class Options for the 2021-2022 School Year
Monday/Tuesday or Wednesday/Thursday

Children must be 27 months old by September 1st. Toddler classes have a lead teacher and an assistant teacher
Monday, Wednesday and Friday
Tuesday/Thursday

Children must be three years of age by Sept. 1. Both preschool classes are mixed age, 3-5 years old.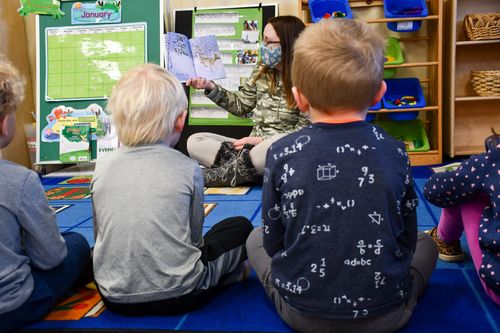 Monday through Friday

Children must be four years of age by September 30th.
Free flowing, child directed fun! We focus on social and emotional development and provide activities which foster independence, working together, and creativity. Our small class sizes ensure your child has the care, supervision and interactions they need from their teachers for a positive first preschool experience.
Investigating, exploring, learning, creating and building friendships are what preschoolers love to do! Our preschool and Pre-K program puts an emphasis on child-focused learning, nature exploration, creativity, spiritual growth, and kindergarten readiness. All our preschool class activities are aligned with Ohio's Early Learning and Development standards.